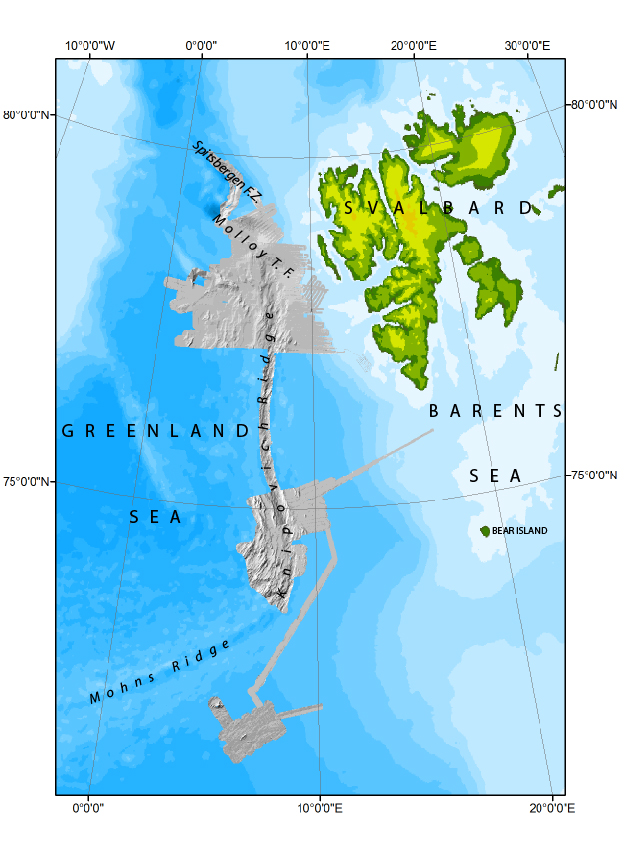 MetaData (GINRAS-Knipovich-Ridge-MetaData.doc)

Contributing organization:
Geological Institute RAS (GIN RAS), Norwegian Petroleum Directorate (NPD)
Country:
Russia, Norway
Platform:
R/V "Akademik Nikolaj Strakhov" (GIN RAS - shipowner)
Cruise ID and Dates:
Str24 (2006), Str25 (2007), Str26 (2009), Str27 (2010)
Chief Scientist or Investigator:
Andrey Zayonchek, Alexander Peyve, Sergey Y. Sokolov
Device Type:
multibeam
Device name:
Reson SeaBat 7150, Reson SeaBat 8111
Processing Software:
PDS2000
Gridded dataset:
Knipovich_200m_UTM32WGS84.zip
R/V "Strakhov" trackline position data:
RV_Strakhov.rar
Reference
Zayonchek A.V., H. Brekke, S.Yu. Sokolov, A.O. Mazarovich, K.O. Dobrolyubova, V. N. Efimov, A.S. Abramova, Yu.A. Zaraiskaya, A.V. Kokhan, E.A. Moroz, A.A. Peive, N.P. Chamov, Yampol'skii K.P. The Structure of Continent-Ocean transition zone at North-West Barents Sea Margin (results of 24–26-th cruises of RV "Akademik Nikolaj Strakhov", 2006-2009 ) // Structure and evolution of the Lithosphere. Contribution of Russia to International Polar Year. Vol.4. M.: Paulsen, 2010. P.111-157.